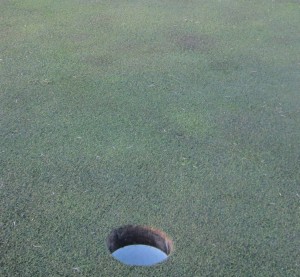 As Daniel is learning how to play golf, he is gaining valuable lessons often as he is on the golf course and on the driving range. Recently, he has noticed two ways that he has learned how to play better golf.
First, he has learned that he does not have to hit a driver off every tee. Second, he has learned the importance of the short game and knowing how to chip and putt.
Here is a video of Daniel talking about how he has learned these two important golf lessons.
Daniel learned that he does not have to hit his driver off every tee when he hit an errant tee shot. He decided to hit a provisional shot with this three-wood. He hit that shot in the fairway, and it went nearly as far as his driver.
This is an important lesson for Daniel as he is learning how to play golf. He has only been playing golf for about three years. He is only 13 years old, so when he first started he could not hit the ball very far. He could hit a good tee shot and a good second shot and still be a good ways from the green on a par 4.
So I think Daniel just got used to always having to hit a driver off the tee in an effort to get as far down the fairway as possible. Now that he can hit the ball farther, he sees that a fairway wood can be the smarter play.
Daniel also is realizing the importance of the short game as he is learning how to play golf. In one of our "Lessons from the PGA Tour" posts, we talked about the old adage, that you drive for show, but putt for dough.
Daniel recently played nine holes and only needed 11 putts. The reason he got by with so few putts is because he was both chipping and putting the ball well.
When you miss the green with your approach shot, you can still make par if you hit a good chip. It's nice to have a birdie putt, but it's also nice when you can get up and down regularly for par.
I expect Daniel will gain even more valuable insights as he is learning how to get better at golf over the coming years.
For comic relief here are a couple of outtakes while we were making the video about what Daniel has learned on the golf course. In the first one, the way Daniel describes hitting a driver instead of "less than" strikes me funny.
In this video, I was doing my best not to laugh. If you look closely you can see how I'm biting my lip. It didn't work.
On the bright side, I think it's important to have fun as you are learning how to play golf. So I don't feel so bad about laughing during the videos.
If you think some new clubs would help your game, be sure to check out our 2012 golf club reviews. We also can help if you're looking for reasonably priced golf clubs.
If you're looking for the latest tour news, we suggest PGATour.com. For discussion about golf issues, we like Golf WRX.