Golfers who want to improve their scores are always looking for good golf chip shot tips.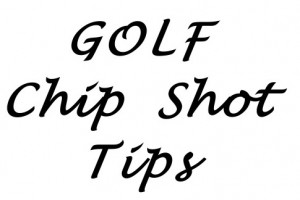 The old adage that you drive for show and putt for dough can be extended to include chipping on the money-making side of the equation. Learning to get up and down from around the greens will shave precious strokes off your score.
After Daniel plays a round of golf, he and I often talk about how he played. Many times, we'll talk about how much better the round could have been if he could have just avoided a few bad holes.
Think about how much better your scorecard would look if you knew before a round started that you would never make worse than a bogey. When you're playing golf, chip shot tips can help you accomplish that.
How Golf Chip Shot Tips Can Improve Your Game
Consider this. If you learn how to hit a chip shot that gets you in gimme range, all you have to do to make bogey on a par 4 is to get your third shot close to the green. Regardless of whether your hit your tee shot in the fairway or in the rough, if you can get near the putting surface in three shots, then chip it up and putt it down, you will make bogey.
So, you can see that if you hit good chip shots, golf becomes a lot easier game. It's a lot more fun, too.
Here are three golf chip shot tips that focus on preparing to hit shots that will help improve your game. You'll need to work on the mechanics of chipping, too, but these simple suggestions can help you get up and down more often.
First, read the green. Some golfers don't think about looking at how the ball is going to break on the green until they're about to putt. But chips can move right to left or left to right as well.
An Example of How Golf Chip Shot Tips Can Work
When Daniel was in the junior club championship last year, he had a rough start on the second and final day of the tournament. He hit his tee shot in the hazard on the par 4 hole, dropped in a spot with an awkward lie, laid up and then missed the green on his fourth shot. While we were looking over his chip shot, he and I figured out that the green was breaking right to left. I told him that I thought if he chipped the ball just onto the green and about six inches to the right of the hole, he should be OK. He did exactly that and the ball went in the cup. It was an unusual way to make bogey, but it was still a bogey.
So the second of our golf chip shot tips is to decide where you want the ball to land on the green in order for it to end up close to the hole. Once you know how the green breaks, you can figure out the optimum spot where the ball should hit the putting surface.
Of course, you will have to consider how high you're going to hit the ball, whether you think you'll be able to get any spin on the ball and the speed of the greens. All those factors will help you discover where to hit the ball.
The third chip shot tip is to visualize the shot. Go over it in your mind before you hit it. Imagine the ball landing perfectly on the green and rolling smoothly along the putting surface and into the cup.
You should visualize all your shots before you hit them, but the practice is especially helpful on shots around the green. Francis Howley, director of golf at Carton House, demonstrates the importance of visualization and also talks about the importance of landing the ball in the right spot in this video.
How to Make Golf Chip Shot Tips Work for You
Golfers also often make the mistake of ignoring technological advances in club development that can make the chip shot tips even more useful. Changes in wedge design (like the ones perfected by this company) can help on shorter shots from the fairway or rough and on chip shots around the green.
Chipping is an important part of the golf game, but many players often overlook it in their practice routine. They'll hit a a few buckets of balls on the range, then head straight to the practice green to work on their putting. They never even get out their wedges to work on their chip shots.
Golfers on the PGA Tour are always ready for nearly any circumstance on the course. They do that by practicing all facets of the game.
So before your next round, take a few minutes to work on chipping. These golf chip shot tips will help you get ready to hit shots that will lower your scores.