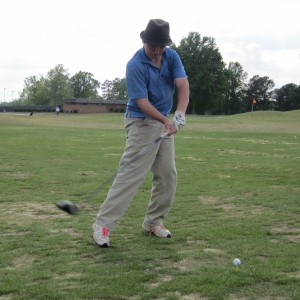 If you need golf instruction and tips, it's not always easy to find a lesson for golf that will help improve your game. Some free video golf lessons are too specific and deal with details of the golf swing that can confuse golfers.
We prefer lessons that will help us remember general ideas that improve our golf swings. In his free video golf lessons, Charlie King, director of instruction at Reynolds Golf Academy, gives some of the best golf instruction we've found.
In the video below, King talks about what he calls the ultimate tip in golf. He says golfers should focus on developing the ability to hit the ball solidly.
Some golfers, King says, mistakenly think they are lifting their head when they are hitting the ball. What is really happening, he says, is golfers are instinctively try to lift the ball up in the air, which makes the club contact the ball on the way up.
King, who is a Golf Magazine top 100 instructor, provides golf instruction and tips that emphasize the importance of learning how the club should "smack" against the ball on impact. This can best be accomplished by hitting down on the ball. He demonstrates a drill that will help you develop that skill.
The line drill that King shows you how to do on the video will help you take divots in the right spots while you are hitting your golf shots. He starts by hitting shorter shots. He says figuring out the lesson behind the drill can make a big difference in your golf game.
Once you know how to make solid contact with the ball on your golf swing, you'll start hitting better shots. When you are hitting better golf shots, you will start making more pars and birdies and less bogeys or worse.
You also want to make sure you have the right equipment. Many golfers are checking out 2012 golf club reviews to find this year's best clubs.
Some golfers have discovered that reasonably priced golf clubs can help them hit the ball longer and straighter than their older clubs.
Daniel found this video while looking for golf instruction and tips that will help him learn how to get better at golf. I am sure it will help him improve his golf game.